NYIF launches New E-training Platform for Shortlisted Candidates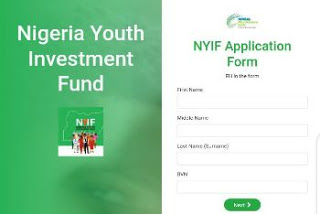 The Nigeria Youth and Investment Fund has re-launch a new training platform for shortlisted candidates, shortlisted applicant who under the training will be qualified to receive the loan as specified in their application dashboard.
The trainig link is officially available at https://nyif.nmfb.com.ng/training
TRENDING NOW
Hence, if you applied for the NYIF application and you have received a mail to partake in the training, you are advised not to miss unless you don't want the loan anymore.
Important things to take note off are stated below:
Training has moved from MindThe_gap training to Zoom (Link and passcode to be sent)
Training is ongoing on daily basis, and
New training invitations are sent to applicants every day,
A new online shop on Facebook- Wazobia Online Market lunched
Goods and Services to aid buying and selling can be displayed
" The group Admin Mr Iwowari Ayiba-efie Jaimon says the group is An online buying and selling platform where traders and buyers meet and do trade with ease".
The Nigeria Youth Investment Fund loan training has officially started on 1st of April 2021, if you have submitted your loan application for review and approval, keep checking your mail for training notification, there will be no rescheduling of time for training henceforth., Sunday Dare warned.
For those yet to pre-invitation notification text, kind note all applications will be treated as the programme is not ending any time soon, there is even a bill at the national assembly to make it a continuous and permanent programme.
If you have received SMS, pre-inviting you to the NYIF programme, kindly click the link and proceed with your registration, fill the blank spaces and follow all the instructions as laid down.
All emails and code verification and confirmation will be resolved in batches, Dara has assured all applicants. So, you need not worry, if you have filled the pre-qualification form, and waiting for the confirmation link.