NYSC Batch 'B' Stream 1 Online Registration 2023 Begins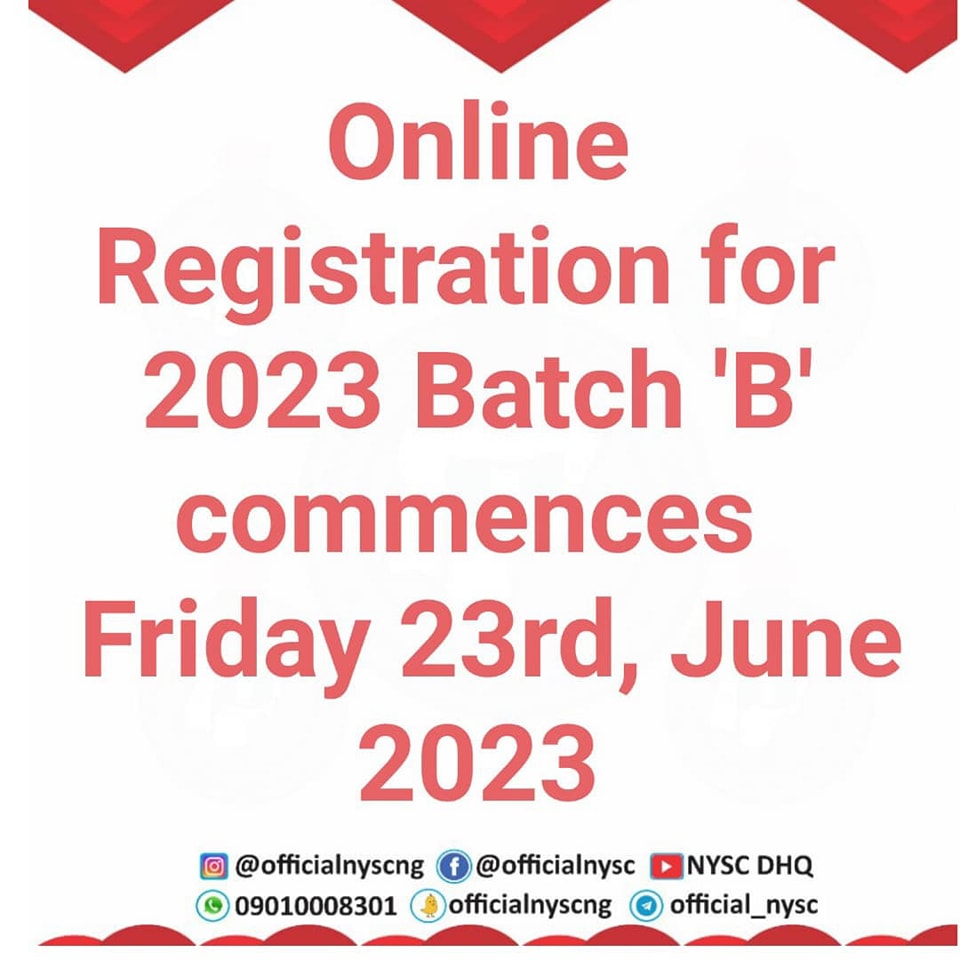 This is to inform all prospective corps members, that the NYSC registration portal is now open for registration, to enable them to register for the 2023 Batch "B" Stream 1 mobilization.
The National Youth Service Corps (NYSC) scheme in Nigeria, has been an important platform for fostering national unity, promoting personal development, and providing opportunities for young graduates to serve their country. With the commencement of the NYSC Batch 'B' online registration for 2023, a new cohort of enthusiastic graduates is ready to embark on this transformative journey.
TRENDING NOW
The commencement of the NYSC Batch 'B' online registration for 2023 marks the beginning of a new chapter for thousands of graduates across the country. The process provides a streamlined and convenient way for prospective corps members to register, submit required documents, and choose their preferred states of deployment.
To register for the NYSC mobilization, you must visit an NYSC accredited Cyber Cafe, only accredited cyber cafes are allowed to carry out NYSC registration. In this regard, you are not allowed to use anyhow places as this may lead to disqualification of found.
Instructions to Guide Locally Trained Graduates during NYSC Registration 2023:
The Revalidation link is for those deployed in 2023 Batch "A" and previous Batches but did not go to the Orientation Camp.
If you have registered previously and did not complete your Registration, do not create a new account instead click on "Login Here" to continue your registration with your previous Username and Password.
Do not thumbprint by proxy. (Nobody should thumbprint for you; thumbprint should be done by you).
Upload a clear passport photograph. Do not upload a passport photograph putting on NYSC crested vest, you will not be registered on camp if you fail to comply.
PCMs who have Name Correction requests (Addition or Removal of Name) to be attended to by the Institution, should apply for that during Online Registration on their dashboard as well as spelling errors and rearrangement.
The date of Graduation and Course of Study will now be on the Certificate of National Service and Exemption Certificate.
Ensure your details are correct.
Apply for a Date of Birth Correction on your dashboard. Note that you cannot correct your Date of Birth after Camp Registration.
PCMs with wrongly uploaded Thumbprints and Passport Photographs during Online Registration to contact our States Secretariat before the commencement of the Orientation Exercise. No change of passport photograph after registration on Camp.
Part-time graduates are to register online so as to be able to print their Exclusion Letter on their dashboard when PCMs are enabled to print their Call-up Letters.
Instructions to guide Foreign-Trained Graduates during NYSC Registration 2023:
Click https://portal.nysc.org.ng/nysc1/ForeignReq.aspx for requirements of foreign graduates Mobilization Process.
Do not create multiple accounts.
Upload Original copies of your documents and also input your name correctly as it is on your Certificate.
You can register anywhere you are but you must thumbprint in Nigeria before going to Orientation Camp.
Contact the Federal Ministry of Education Abuja, if your Institution of study has not been evaluated so as to obtain Evaluation Letter. Submit the Evaluation Letter at NYSC NDHQ Abuja.
Note that the SSCE result uploaded must be equal to or greater than four (4) years.
Select a Center for Pre-camp physical verification during Online Registration.
All Foreign-trained graduates should physically present themselves after they must have successfully registered online, alongside original copies of their degree certificates, transcript and travel documents.
If your credentials have been physically verified at the various centres during the Pre-Camp Verification Exercise, you are to print your Clearance Slip and present the same for registration at the various camps of deployment with original copies of your documents.
Go camping with the translated version of your Certificate.
If you are exempted from Service, you are to collect your Exemption Certificate at NYSC NDHQ Abuja.
Those excluded from Service will print their Exclusion Letter on their dashboard Online.
How Much Cyber Café Charges for NYSC Registration?
According to the NYSC, Cyber Café Operators are NOT to charge more than Two Thousand (N2,000.00) Naira for services rendered to Prospective Corps members (Nigerian and Foreign-trained).
NYSC Accredited Cyber Café Near Me
To find NYSC accredited Cyber Café near you, you will have to use google my business to locate any nearest cyber café, if you are in Abuja, you can find the comprehensive list of NYSC Accredited Cyber Café in Abuja and also the full list of NYSC Accredited Cyber Café in Nasarawa State.
Other states accredited cyber café are listed on this blog, kindly carry out a search to see all the listed accredited centres closer to you.
Instructions on How to Register for NYSC Batch 'B' Stream 1 Online Registration 2023
Before you begin your registration, you are expected to check the NYSC Senate list to see if your name is captured and if you can register for this Batch.
If you are registering for the first time, click on Registration for Mobilization 2023 Batch "B".
If you have registered previously and did not complete your Registration or Submit it, do not create a new account. Instead, click on "Login Here" to continue your registration with your previous Username and Password.
If you were mobilized in the previous Batches and have registered online before but are unable to proceed to Orientation Camp, Click on the "Revalidation" link to re-validate your registration.
To carry out a seamless registration for batch B, 2023, Prospective Corps Members (PCM) are to note the following for strict compliance:
Prospective Corps Members should ensure that they have functional e-mail addresses that they can access and Nigerian (GSM) telephone numbers with which to register. Such e-mail addresses and phone numbers must be maintained throughout the service year.
Locally trained PCM are expected to use correct Matriculation numbers to register.
For locally-trained graduates, only those whose names appear in the Senate/Academic Board Approved Result lists submitted by their Institutions will have access to the register on the NYSC portal.
Foreign-trained prospective Corps Members should NOTE that ONLY those that graduated from accredited institutions are qualified for mobilization. Any foreign-trained prospective Corps Member who is in doubt of the accreditation status of his/her institution should approach the Federal Ministry of Education for verification.
Foreign-trained Nigerian graduates are to visit the NYSC portal, register and upload the following documents:

West African School Certificate (WASC) (with not less than 5 Credits at 2 sittings) or it equivalent
or,
General Certificate of Education (GCE O' Level) (with not less than 5 Credits at 2 sittings) or its equivalent
or,
NECO (with not less than 5 Credits at 2 sittings) or its equivalent
or,
NABTEB (with not less than 5 Credits at 2 sittings) or its equivalent
or,
High School Diploma or its equivalent for those who attended school in the USA, etc.
Certificates are not qualified to register.
Complete the official transcript of the First Degree or HND programme.
International Travelling Passport showing the following pages;

Personal Data.
Visa to the country of study.
Date of the first departure to the country of study and
Date of arrival in Nigeria.

Graduates with dual nationalities are required to upload Personal Data Pages of both international passports and present the passports for physical verification at the orientation camp.
It is the responsibility of the prospective corps members who studied in non-English speaking countries to get their Certificates and Transcripts translated into the English language before uploading. The translated transcripts and certificates should also be presented for physical verification.
All graduates of Medicine, Veterinary Medicine, Physiotherapy, Radiology, Optometry, Medical Laboratory Science and Pharmacy are expected to have their Certificates of Registration with their professional bodies. Payment receipts are not acceptable.

Foreign-trained graduates seeking mobilization for national service should NOT visit NYSC Headquarters, Abuja, for physical verification of their documents. The exercise will be done at the orientation camps. They are to print their call-up letters online and report to the orientation camps in their states of deployment. Foreign-trained graduates are expected to go to the camps with the original documents they uploaded for verification.
Provisional certificates, To Whom It May Concern, online print-outs, scanned and photocopies of credentials are not acceptable.
Foreign-trained graduates who registered for the Exemption Certificate shall present all their original academic credentials and international passport for physical verification when they come to collect the certificate at the National Directorate Headquarters, Abuja.
All foreign-trained graduates who registered and are excluded from service should also present original academic credentials and international passports at the NYSC NDHQ, Abuja, for physical verification before Exclusion Letters are printed online.
All foreign-trained prospective Corps Members who registered but were not called up for service in the last batch should log on to the NYSC portal to revalidate their registration. This category of persons need not pay N3,000.00 (Three Thousand Naira) again.
Anybody who presents any fake document will be demobilized and decamped.
Prospective corps members should ensure that the Passport photographs used meet the following specifications:

Ensure your face (eyes, nose, ears, mouth and jaw) is fully shown without bending.
Ensure the picture fills the frame and centralized
Ensure the Photo background is white or off-white with no shadow.

On no account should prospective corps members register by PROXY. They should also remember the fingers used for their biometric capturing as these will be used for verification at the orientation camps. Those who cannot be verified with their biometrics at the orientation camp will not be registered.
Only prospective corps members who want their call-up numbers sent to them through SMS and wish to PRINT their call-up letters online are expected to pay the sum of Three Thousand Naira (N3,000.00) (see NYSC Portal on how to make the payment).
PCM who do not want to pay the N3,000.00 has the option of going to their schools to collect their call-up numbers and call-up letters.
All prospective corps members who paid for the online registration before but were not mobilized need not pay again.
Married female prospective corps members (whether locally or foreign-trained) should upload copies of their marriage Certificates, evidence of Change of name and their husband's place of domicile during registration.
The orientation camp is highly not ideal for pregnant and nursing mothers. Prospective corps members in this category are therefore to note that they will not be accommodated.
Prospective Corps Members with a serious health challenge should indicate their TRUE HEALTH STATUS during registration to enable concessional deployment for them.
Prospective corps members who graduated from institutions located in the following geo-political zones with challenges related to mobilisation should contact the under-listed telephone numbers:

North Central – 08092142614
North East – 08102790538
North West – 08092142661
South East – 09038034460
South West – 07019190810
South South – 08083202056

All Part-time graduates are expected to register online and wait for the collection of their Letters of Exclusion at their various Institutions. For those willing to print the Letter of Exclusion online, this can be done on payment of Three Thousand Naira (N3, 000.00) only.
PLEASE NOTE THAT ONCE THE PORTAL IS CLOSED, THERE WILL BE NO FURTHER REGISTRATION.
When is NYSC Batch B 2023 Closing Date?
The NYSC Batch B 2023 will close on 30th June 2023, prospective corps members are advised to register on time.